As WA enters recovery, it's time to support our backbone – startups
Carbon put their money where their mouth is. Several of the founders and partners regularly invest in smart start-ups, to support future small businesses and our economy.
Carbon's co-founder Jamie Davison has been involved in Perth Angels as a committee member since 2016 and over the years has built a strong network of local entrepreneurs, supporting each other through the ups and downs of being a business owner.
"We have come from small beginnings ourselves at and have grown to be a collection of small businesses across Australia, so we know the importance of having support from the ground up. Not only that, we've really extended our network by connecting with early stage investors, and we're proud to help turn brilliant ideas into brilliant businesses. Take Bunsters and Rhinohide for example. Our founders met both of these upcoming entrepreneurs through Perth Angels, where Renae Bunster and Marc Berryman pitched their ideas to a crowd of potential investors. Impressing ourselves amongst others, we made an investment and are now proud to see how both companies have grown and succeeded."
"Whilst it's a way we can give back to the economy and to support other entrepreneurs, it's also a fantastic way to surround ourselves with smart people with a passion for business. It's great to share ideas and solutions."
"It's fantastic to be involved with entrepreneurs at the beginning of their business journey. Being able to support them from turning their initial concept into a growing business is a great journey to be part of."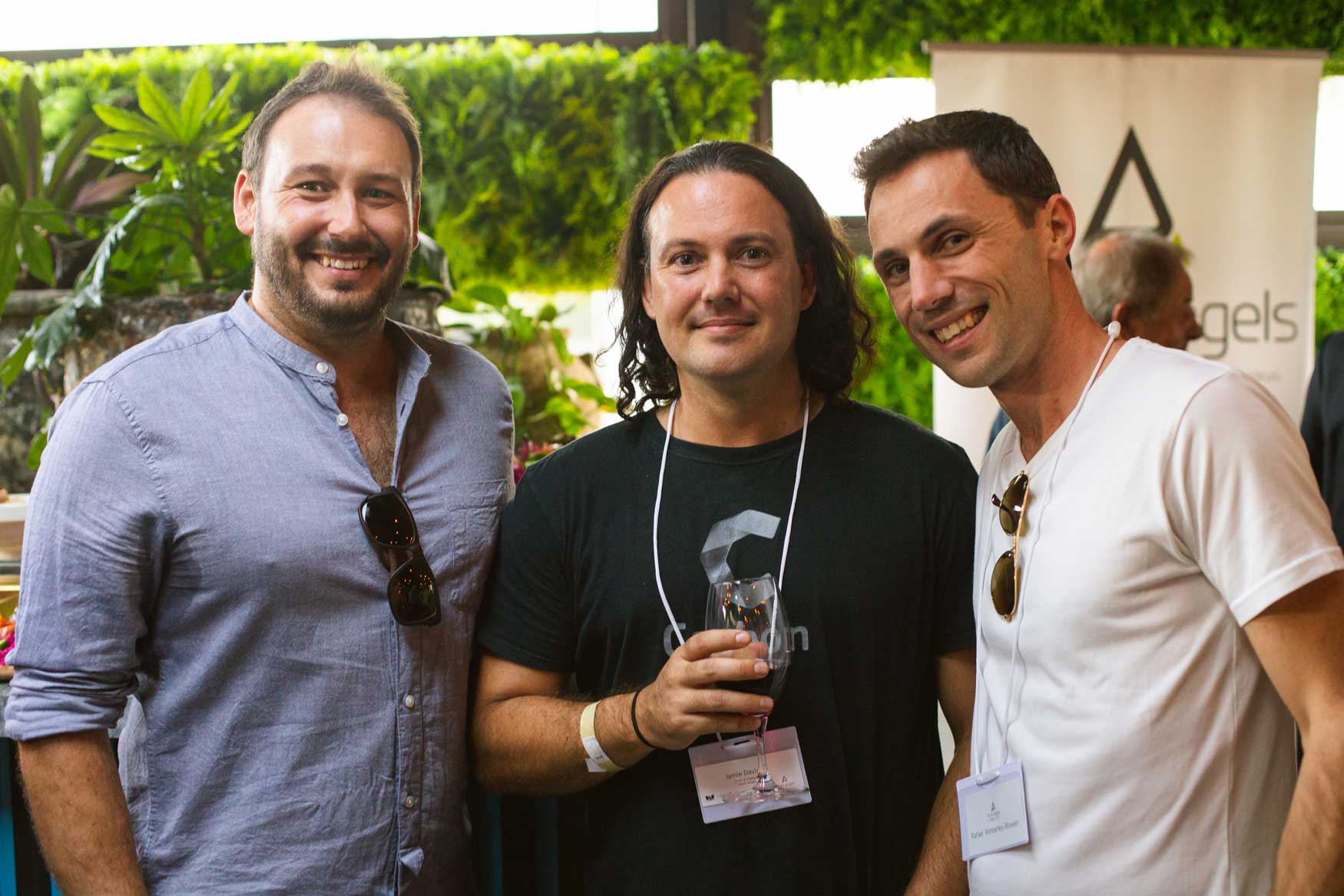 Carbon Group at Perth Angels Event, pictured (L-R): Marc Berryman (Rhinohide), Jamie Davison (Carbon Group), Rafael Kimberly-Bowen (Perth Angels)
Opportunities for Growth with Early-Stage Investment
With WA leading Australia (and the world, in fact) through a recovery from COVID-19, the spotlight returns on supporting the backbone of our economy, start-up businesses. Whilst many businesses will have taken a hit due to the pandemic the world has recently been through, there are many positive sides that we should focus on. With Carbon Group recently becoming gold sponsors of the WA-based investment group Perth Angels, we thought it was time to highlight just one of the many opportunities around us in the current economy; early-stage investment.
Recessions may not seem like the ideal environment to be coming up with a new business concept or supporting other entrepreneurs to achieve their dream by investing in their ideas, but you'd be surprised. Many of the big brands that have come apart of our every-day lives were in fact born during a past recession.
Uber and Airbnb are both great examples. I think the majority of us have jumped into an Uber or booked accommodation for a trip somewhere across the globe using the online platform Airbnb. They have both become well used brands when it comes to local or international travel. Both of these companies launched during The Great Recession in 2007 to 2009; a recession that saw the GDP fall by 4.3% and unemployment reach 10%, with the recession lasting 18 months. Uber launched in March 2009, and in 2018, the company reported their app had been used for 10 billion trips. Likewise, Airbnb launched in 2007 when the founders decided to rent out their loft, and the company has turned into a multi-billion firm, with a reported worth of $US31 billion in 2019.
So, although investing in a start-up company might not be top of your wealth-building list during current times, there's always smart ideas coming to market, so why shouldn't it be? Recessions can be a great time to invest, with asset prices low and entrepreneurs with even more hungry to make their idea work, it could be possible to see better returns at a faster rate. If you're a small business owner yourself, it probably seems daunting to use your cash to invest in someone else's business. But, as long as you protect your cash and not invest out of your means, investing in a company or idea that has demand is likely to give great results.
If, like Carbon, you'd like the opportunity to connect and potentially invest in early stage businesses, Perth Angels hold regular pitch nights where several entrepreneurs share their business idea with the aim of attracting investors. With events looking a little different these days, pitch nights are currently taking place over Zoom. Keep an eye on the Perth Angels website for future pitch nights and do your bit to support Australia's start-ups. Alternatively, reach out to Jamie Davison to find out why he decided to invest, and his experience since becoming a Perth Angels Gold Sponsor.